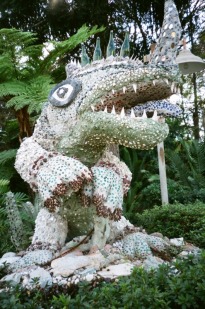 Walking to the grocer's for Halloween chocolate (which cost $15 for three small bags, a run I will make two more times if we expect to have any to dispense to trick-or-treaters), I pass through the back gate and see the poster a family stuck to the metal bars with electrical tape, a picture of their missing pet.

My first reaction is unmerciful, Well, that's a cat for you; wandering off is what they do.

Then the mind moves to a more practical note:

these notices aren't meant to be but become fixtures; if only the owners who so enthusiastically pasted these over community mailboxes, on the streetlights and fence posts, the entrance and exit gates, would then remove them, unenthusiastically or otherwise.

But they won't; these urgent signs will remain affixed to where they were hung (leaving me to wonder if the animals ever rejoined their owners) until wind, rain, or "other" (an annoyed resident) takes them down.

Chalk it off as another gung-ho project that gets abandoned after the initial gust of interest.
As I step out onto the county road—an unlit stretch of concrete with no sidewalks, I see the smear of what was once a woodsy animal (squirrel, raccoon, or possum, too small to have been a deer, although the area crawled with them), thinking that dusk was the wrong time to do this trek, especially in black sweat pants. . .Then my thoughts, a wild hair, return to the Lost Cat flyer because that would make a good band name like Better than Ezra, my favorite.

(Of course my son is always trying out new band names like Magician at the Beach and Shameless Exit when his "band," pending a current name after the old one was purged, yet again, has only met to practice twice.)
Stepping onto the access road, I can see my destination (an illuminated blip from here) but in the dark I hesitate to walk the pavement:

too many cars are on it still traveling their highway speed for me to use it these last few blocks, but I know better than to move to the grass, too, because when I've walked this path in daylight I have seen the webs in the grass as frequent as were driveways in the subdivision I had left behind (I'd almost rather get hit by a car than bit by one of those waiting spiders).

And, it is at this juncture--as I am staring into the headlights of oncoming traffic--that the significance of those lost pet signs hits me because I know that particular grief.
My first pet loss was the guinea pig I had won in first grade.

I had written the best essay on why I wanted him and how I would take care of him so I got to take the class pet home for the summer.

Then, while I was cleaning his cage not long after I had taken possession, our dog, Cindy, snapped its neck with a flick of her Doberman Pinscher head.

We'd buried Snoopers in a half gallon milk carton out back and then Cindy, not quite finished with the pig, dug the poor creature back up.

A few years later, Cindy the Dog (who my baby sister, Cindy, is named after—no lie) disappeared and my parents told us that sometimes pets wandered off to die.

(I don't think I believed them then since so many of our dogs--and we had a bunch, many for brief intervals--went off to "the farm."

When Steve and I were first married and shared stories, come to find out many of his family pets went to "the farm," as well. . .)
Then when Seamus was two, a senior student of mine was getting rid of his pet, a white dwarf bunny (who turned out to be the largest, most antisocial rabbit I'd ever seen, a pet that was never petted).

He and his father dropped it off one day with its gear—a leash they had never used (to walk the bunny?), the wire cage, and food & water bowls.

Seamus was interested in playing with the bunny but it seemed happier to be left alone, so I would often let it run free in the backyard while I cleaned its cage (are you seeing a theme?) and Seamus explored the sandbox or ran around playing with the hose.

But at bedtime one day, the rabbit was nowhere to be found and Seamus was very disturbed by its vanishing.

And me?

Well, I may have been secretly relieved to be unburdened of the thing that, honestly, flinched when you touched it and seemed happiest when ignored so imagine my surprise when it hopped back into the yard about four days later.

(Movies have been made about cats and dogs traversing miles to find their human families, but a bunny?)

Who knew they had a sense of direction but here it was, back home, looking none the worse for wear.

Seamus and I were kind of ecstatic to see the bunny reappear—especially me because I knew how the world operated and that when a vulnerable creature exceeds its boundaries it's pretty unbelievable for it to remain alive and return intact.
The night it had returned it had hopped right up to us then sniffed its cage and hopped in like it was tired from a long voyage.

The next morning, however, when I went to check on it, its leg looked kind of funny sticking out of the bars.

The angle of the back paw seemed rigidly straight—like it was doing the splits, so unnatural a maneuver, the rabbit would have had to have been a contortionist to achieve it or to have held it as long as it did, which was longer than the minutes I spent, staring down at it, unable to move myself.

(A single mom working at giving her child the healthiest upbringing she could muster, I couldn't endure my son's heartbreak—not again, a second very real death this time.)

According to how I had been raised, a

nimals were supposed to run away to die, not to come home to croak in their cages.

Apparently, this bunny did not get that memo.
Half disgusted & half scared, I wrapped him up and put him in the garbage can, except that same cold, straight leg was too long for the lid to close properly.

Great!

What was I supposed to do next?

Become Joe Pecsi, a cold-blooded killer, and saw its leg off to make it fit?

My stomach hurt and I was late for work so I left the lid ajar, saying a prayer for the wee departed soul.

Then driving my son to preschool, I explained that the bunny had eaten something bad while it was away and had died in its sleep, a tough conversation to have with a small child, one of the worst. And, a hard lesson to learn--at any age.