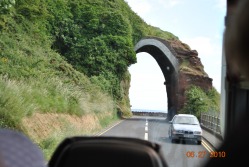 With eyes burning from drops I put in mornings when allergies flare, I drove to work, another smooth commute in—until the strange dude who somehow aligned next to me in the adjoining lane (on the four-lane highway) wouldn't let me shake him.

(It reminded me of a phenomenon I hadn't thought about it years, like when we were kids on the swing set; if anyone got to your exact level and fell into rhythm with you, kid protocol dictated that you say, "Hey, get outta my bathtub!")

I sped up and then slowed down, but he fought to stay right by my side and with the vantage point the higher elevation his truck cab afforded him, he was staring straight down into my lap like a joyriding peeping Tom.

I managed to—very unsafely—get off the freeway an exit or two early and lost the creepy lizard.

Then, I started thinking, maybe Steve was right:

it was time for a new car, one with a bigger engine that had get-up-and-GO. . .
I have had two brand new cars in my life, but my very first car was an ugly vehicle that had formerly belonged to the nameless fleet of New Haven post office cars, and the mechanic I bought it from said, "Ain't much to look at but she's got an engine on her."

He had sold me the revamped duckling for $800 and it drove like it would last forever, and it probably would have if my boyfriend and I had not skidded on black ice one night making the long drive back to Connecticut from Cleveland, down a dark single-lane stretch of Pennsylvania that almost cost us our lives.
There was no advance warning (and this is why these events are called "accidents") as the wheels lost traction and I, control of the steering, and the tiny car spun off the road to flip six times down the embankment.

It landed upside down and my seat belt had me strapped to what was now the ceiling.

My then boyfriend helped me out through the smashed passenger seat window since my door was crunched closed & no longer a portal for escape.
Smart or not we walked back up to the roadside where a truck driver had stopped and was on the phone (or was it a CB still back then?).

He ran over and insisted I lay down, and my heaving body was all too happy to oblige, although I felt so strange and the reality of the accident was coming home to me as I sought peace flat on my back on the highway's soft shoulder.

While we waited for the ambulance that my Good Samaritan had ordered, he gave me a traveler's pillow and covered my shivering body with a blanket (a symptom I now know was shock).

"I saw the accident," he said, taking my pulse, "and I had originally called life flight assuming if anyone had survived, they would need immediate emergency assistance but you two look okay.

Do you hurt anywhere?"
My teeth were chattering so badly I couldn't speak so I nodded and my head exploded (found out later I had a concusion).

I tried to blink but realized I had pulverized windshield dust in my eyes and on my eyelashes. "Who is the president?"

he quizzed to see if I was processing clearly.
"Bush," I said, between gritted teeth as the next wave of shakes rode my body.

"And, his wife's name?"

"The Bushes,"

I said, hoping his questions didn't get any harder because if he started asking me names of the presidential cabinet next I would draw a blank, not because the accident had damaged my brain but because I had no clue on a good day.

"George and Barbara."
Now, I have encountered more than my share of whackos but if the guy that pursued me this morning on the freeway was unhinged then the emergency room physician I encountered at that backwoods ER took the prize.

As my face was in a vice he had locked it into while he removed glass from the underside of my eyelids with a dry Qtip, his thigh pressed against mine, he made bizarre chitchat.

"Boy, you really got glass all over.

Sorry if this hurts, but aren't you glad I don't have to give you a pelvic exam?"
That was twenty years ago and I have often remembered the kindness of the passing stranger, a fast-thinking trucker, but more often I have recalled that weird doctor and I wonder if his medical career ended in sexual harassment.

(Or had I been singled-out? Was it like with the nuns at my Catholic high school?Once, one of my best friends and I were reminiscing about this Sister and that, and I mentioned the school infirmary.

"Wasn't it funny,"

I said, laughing to her as I tried to speak, "how every time you went in there with a headache they asked you if you were pregnant?"

"What?"

she asked, looking more than shocked.

"They never asked me that.

Not once," and then I think we were both insulted, but for very different reasons.)

Driving has its own hazards but the people you meet while on the road can be the rarest birds of all.