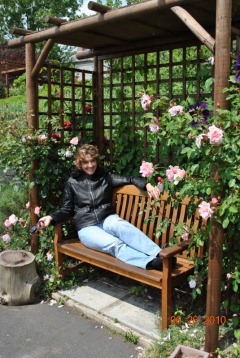 "I would stop at nothing.

I wanted to be the best," Jennifer Lopez said to the Redbook interviewer.

At the doctor's office, I finished the article, tucked the magazine back into the basket with the others and sighed.

What I wouldn't give for that kind of—not ambition, because I've got that—but confidence.

I never was a legend in my own mind, like some have managed--and I say that jealously.

I could definitely use more of that superiority-complex quality; it would be my unsecret weapon, a much needed super power to protect me (mostly from myself) whenever I had to climb into a frightening ring.

I am not insecure but I do fall apart when things get competitive.
Lord knows, I always aspired to aspire to be more, but I never convincingly achieved that persona, or if I was able to construct that false front I didn't maintain it for long. . . Wouldn't it be nice to view yourself a little larger than you really are—so you had a buffer against competition, criticism, and reality?

To envision your talents in a light that surpassed your actual giftedness?

Think of the benefits:

you would walk into arenas you had no real business entering and that confidence would buoy you and be your force field.

It would compensate for the, shall we say, shrinkage that can come with performance.

For example, the knuckle-cracking nun we had for high school choir said that your quality, the caliber of the sound produced always went down in performance (so if your volume and pitch rated a nine in rehearsal you might perform at a seven).

The only way to successfully counteract this was to increase your original number to anticipate the fall out; in other words, exceed the limit—shoot for an 11 or a 12 on a ten point scale and run hard through the finish line.
We all know the drama queen in high school (okay, it isn't confined to high school) who got leads she didn't deserve.

She may have been the director's pet, or merely (as stated above) someone whose confidence exceeded their talent—and how would that not help them in auditions?

They are calm and sure of their greatness and, as a result, perform at the peak of their abilities while you are a freakazoid who dis-integrates at the first sign of rivalry.

It is not unlike the student whose mind goes blank with test anxiety:

you are not dumb and you came prepared, you just don't perform well under pressure.

In the shower, in the car, reviewing with your friend at the breakfast table, you know all the answers to the questions (and you can belt every note of the song)—until it matters (or you get in front of judges).

Oh, not the kind of get-in-front-of-an-audience to do the show itself, which is cake (because the part is already yours, you have nothing to prove and no one to prove it to).

It is the evaluating, the process of being evaluated that freezes the soul, causes the voice to crack and the emotions to go wooden.

But who cares if you've mastered the material if you cannot pass the test—or how will anyone ever know, if it's beating others to the punch that you cannot combat?
Sometimes a little delusion is a woman's best friend.

Like the massage therapist who waited on me this last week.

She was punching the knot in my back (don't go picturing Quasimodo—it's not a hunchback, just a ball of stress) and she went on and on about the gorgeous new guy she'd met dancing (and this girl is not a looker, if you'll abide the expression).

She's built like a box and doesn't dress herself up; her skin is bad and she wears cheap glasses—and I want to slap her because she is so self-possessed.

But what

I really want is some of what she has, that go-get-it-ness.
Appearances can be deceiving
:

this conundrum, obviously, goes both ways, as I had a teacher in graduate school who had invited me to a writers' get together, and she'd introduced me to the other authors saying, "If I had Rita's beauty along with half her talent, I'd never be unhappy a day in my life."

But, self worth is not the same as possessing the ability to project a fair assessment of one's capabilities in difficult circumstances, just as talent and peformance ability are not the same as salesmanship and the skill to audition well.