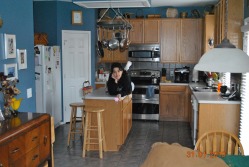 Everyone sharing living space has domestic pet peeves (DPP):

Steve hates it when I hang clothes on our bedroom doorknobs, and I cannot stand that he never makes the bed.

(He will argue that it's because he gets up earlier, but how does that explain the unmade bed in the guest room where he went after I could not sleep because he was snoring and wouldn't wear his apnea mask?)

Involuntarily, my brain is always whirring over what needs the household has (Are we out of milk?

When was the last time the sheets were changed?

Are there any vegetables left for dinner?) but he can come home, get on his computer and zone out the four dogs' worth of fur swirling at his feet like a shedded wig.

If there is an anniversary or a birthday, it is up to me to buy the cards, stuff and mail them or it won't happen, and he pays the bills online several times a month.
Who does the dirty work in your house?

No matter how much any couple strives to be equitable (or to divide chores) studies show that the partner who usually does it tends to be saddled with it.

What happened to taking turns?

Invariably, certain chores like scrubbing toilets and cleaning the refrigerator, detestable duties, get ignored until the one who cannot stand it the most caves in and does it—every time.

Short of nagging or going all OCD (obsessive compulsive disorder) how can people's tolerance for levels of filth, dirt, crumbs, and hair vary so wildly?
Sometimes it is conditioned blindness or pure neglect.

Other times there is nothing to attribute the oversight to but laziness, plain & simple, and like it or not, it takes two to create bad habits because, seriously, who would be crazy enough to volunteer to share more of the burden more frequently when everything is so neat and conveniently done for you?

An old military friend I had who has since moved away was seeing a marriage counselor and the therapist flat out told her, "If you do it, you'll always do it.

Be less efficient."

Whereas this strikes me as verging on manipulative, a counselor friend agreed, explaining it this way, "Why would he change?

It (the situation and their domestic set up) is working for him."

Too often, this becomes the major war in the Battle of the Sexes.
In both our childhood homes, Steve and I saw duties segregated into boy/girl divisions:

girls cooked, did most of the cleaning, and boys took out the trash and cut the grass.

Sound familiar?

Then, too, as the oldest girl, I have been cooking to some degree and in some fashion since I was eight years old—and you have no idea how ready I am some days to hang up my apron.

As a result, a year ago in November, I had a discussion with my husband of many years, saying that I would appreciate his helping plan and cook dinners two nights a week; he reluctantly agreed and the scenario is far better than it used to be, but not yet as regular and predictable a routine as I'd like.
For anyone who thinks times have changed, that I am exaggerating or that it's my imagination that the gender blender isn't the solution it's cracked up to be than rue the statistic I heard on the news last week (October 2010).

The report stated that, whether married or cohabitating, women are still, consistently, doing 75% of household chores.

When both parents or parties work this is inexcusable—and single ladies?

You have to be out of your minds.