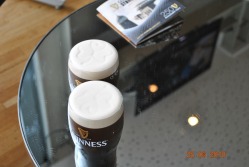 Historically, the Guinness family employed most of Ireland, at one time or another, and pretty much owned at least the greater part of Dublin; lots of the early Guinness beer advertising was crazy propaganda like suggesting pregnant mothers "have one for the baby; it feeds your blood," and--hello, fetal alcohol syndrome--even if the draft was full of iron I am not sure a woman with child needed to be downing the ale daily like a vitamin.

Realistically, the Guinness Storehouse is a 7-story beer museum that terminates in a, you guessed it, glass-walled bar.

(The best part was that it had a 360degree view of the business district below nestled within the Wicklow Mountains.)

Now, I am not a beer person but I love a good cold Guinness, not that I was ready for one before lunch, as the timing worked out. . .
According to the flyer the building is supposed to look like a giant stout glass, and perhaps it resembled that from an aerial view but I didn't see it with my pedestrian eyes.

Parts of it reminded me of the various children's science museums I have visited over the years because there were short videos of stages of the brewing process like how the men (and it was, once upon a time, strictly a male profession) made the kegs—a special skill set to make the wood water tight with handhewn lids, and we saw hydroponic hops growing under glass cases, and tasted and touched roasted hop which smelled exactly like coffee beans.

But, again, I am not sure Steve or I would have visited it had it not been included in the package, as there seemed to be lots of empty space on those six floors leading up to the bar, where we were treated to a beer on tap that the bar staff topped off with a clover in the foam!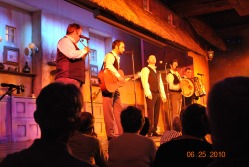 Our final night in Dublin was spent at Three Rocks Pub, a restaurant that had survived WWII bomb blasts, and one standing wall was visibly made of a ton of those small stones encaged in chicken wire.

Our tour bus dined together and we ate at long banquet tables while championship stepdancers and singers put on a variety show; a bit, I imagine, like Ireland's Got Talent.

"Oh," Liam our tour guide had gushed to us beforehand about the evening's impending entertainment, "you will be so close to these dancers, you will taste the shoe leather and be able to feel their toes uncurling in your mouth"; whereas I had laughed, I wasn't sure that would be such a good thing (and I am not a huge fan of Lord of the Dance) but they were a talented cast of young Irish hopefuls.
"Don't forget," Liam cautioned as we drove back to the Royal Marina that night, "breakfast is at 6:30; bags and luggage outside your doors before you come down in the morning."
If I had my druthers and could do Dublin over again, I would give myself more time to discover the city itself and do less tourist traps and explore more of its rich treasures.