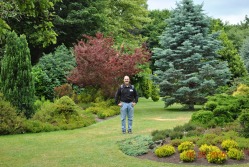 Ever go to an historic place and view a touted must-see attraction, then leave feeling like you had missed the boat?

I hate to admit this, but that's how I felt walking away from Trinity College Library and the Book of Kells.

Believe it or not, it has loads of spiritual significance but it disappointed; I just didn't see what the fuss was about.

First of all admission cost 18 Euro each (that's roughly $60 a couple) and we were done in fifteen minutes.

We waited in a line that took longer to push through than did examining the single display case with three pages of the manuscript visible under a locked glass cabinet.

Plus, it was dark and no pictures were allowed.

The library where so many classics and original manuscripts lived was on the way out but you were forced into single lanes up and down a staircase. You couldn't loiter or get close to touching a book, as the shelves were roped off and there were armed police aplenty watching that you didn't.

It was pretty joyless (and I don't think I could tack on the word experience, as I didn't feel like I'd had an encounter in the hermetically-sealed environment).

Of course we could've stayed for hours in the anteroom, reading the walls about the Kells' authors and their symbolic input but if I had wanted to read a book posted on the walls I could've done so at home.

I was glad I'd visited in the same way you're happy to finish a list item, in case anyone would ask if I'd gone but, in the immortal words of my son, I felt ripped off.
Now I can be as stuffy as a moosehead and there is almost no place I am so happy as in a bookstore, but to me it was a question of economics:

cost of attraction vs. the crowd and the quality and time you get to spend there.

I live in the hometown of the Alamo, a gorgeous landmark location that sees millions of tourists a year—but it is free, and there is a lot to look at and see, moving at your own pace or falling in with a guided tour.
Steve and I were going to meander around the rest of Trinity College but time was short and it was so packed with students and tour buses, which really were a plague on the city (I say that, knowing that included me and I was part of the problem) that we walked off campus so we could breathe.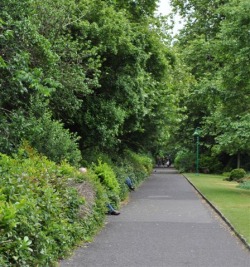 I visited my first public PAY TOILET since the 70's and then we wandered with our coffee into what became my highlight of the day, St. Stephens' Green, referred to as The Greens, a twenty-three acre park that used to belong to the Guinness family.

It is located in the middle of downtown Dublin and I overheard someone compare it to NYC's city park, but that's a misjustice.

I believe Central Park is celebrated more because tree-starved New Yorkers need something growing in their midst that is (relatively) green, but until broken glass constitutes lawn fertilizer there is no comparison.

If The Greens was an ocean, than Central Park is the puddle that collects in a sidewalk groove.

(Yes, I still seem to be campaigning for a proper stoning. . .)
Dublin is incredibly green in more global ways too, giving folks free bikes to get around as a way to cut down on carbon emissions, and you saw, mostly students, cycling their tails off; I loved watching the girls, especially, pedal along in trendy outfits, their miniskirts flapping in the breeze and the girls hadn't a care in the world.

Deeper inside the park, Steve and I saw some more college age students sitting on the grass, eating lunches and one guy playing his guitar, but before we exited the park we witnessed a group of school children on a field trip.

They looked like visitors from another era, positively otherworldly in their uniforms like extras in a Lemony Snicket novel or characters out of Alice in Wonderland.

The girls wore gingham dresses with white stockings stuffed into black patent leather uppers, and every pretty head had on it a straw hat with a wide brim, ribbons flying down the backs like red kitetails.

The boys, on the other hand, stood around looking miserable in striped rugby shirts, resembling prisoners who have been shoved out into the concrete dog run for their fifteen minutes of fresh air more than children out to recess.
People are so often my favorite thing about places and I wanted to take their picture but it seemed a trespass so I didn't.