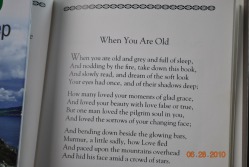 This is the true joy of life:

the being used up for a purpose recognized by yourself as a mighty one; being a force of nature instead of a feverish, selfish little clot of ailments & grievances, complaining that the world will not devote itself to making you happy
.

George Bernard Shaw
In less than an hour I will be sitting outside the local post office (that no matter what time of day you go has a serpentine line, a minimum of nine people waiting in front of you each balancing eighteen boxes apiece, but the two cheerful ladies who hold down the counter exude immortal patience).

In nearly fifty minutes, I will drive where I have arranged to pick up my high school junior, and perhaps because I will slide into a remote slot to let customers have the closest spaces I will feel like the Unibomber, casing the joint.

My idling there will become more suspicious when I have to loiter longer than I'd like because, no matter how driven he is, my son will tarry.

There could be only two people in the building (pick a building, any building) and the structure could be (a) on fire and (b) a philanthropic organization could be giving away new cars, free satellite dishes and pizza, and my son will still be the last person to vacate the space.

The child simply does not know how to hurry; his is a slow-burning wick in an herbal tea universe.
I will have time, then, to relive our poetry discussion last night, when I ran to the reading room and pushed aside the music stand to retrieve a favorite book I hadn't touched in years.

I'd pushed the manuscript into his hands but when the perplexed look crossed his eyes I'd taken the book back and read the selection aloud, sure he wasn't giving the message or the messenger a fair shot. My son hadn't initiated a conversation with me about literature since middle school and I was freakishly overzealous: Why wasn't he as impressed as I was, & why wasn't this poem I had turned him on to changing his life?
In forty minutes I will open the door and insist he snap on the belt before I drive off—undoubtedly under surveillance and minutes shy of having the FBI
descend to investigate.

My son will be distracted and although he is the one running late—and this scheme was his idea, insisting it'd be a quicker transition than his regular bus ride, he will be impatient to get home.

In half of an hour, he will abandon his bookbag at the front door, fly over the dogs and into his shower, turning on the stereo to a station which will rattle the upstairs windows and loosen the very teeth in my gums.
Twenty minutes later, I will revisit the bookshelf he and I had chatted at and will, again, unshelf that special book, maybe even turn the page and read something else because when I had offered the book to him to take to school—as a companion piece to the one his class had read, an extension to his teacher's lesson:

wouldn't she (stuck with some slog from the literary canon she didn't care for or wish to teach) appreciate his taking the time to dig further to join in the intellectual journey?

Wouldn't she, then, think she had done her job, passing on the torch to the next generation?

But, no souls were going to be saved through poetry any time soon due to our dedication to the art because my son had gently rebuked the suggestion, and I'd nodded, Okay. . .
In ten minutes the dogs will get fed while my son shaves and dresses (in torn jeans and a graphic tee honoring one of his favorie bands, lyrical poets to hear him tell it); my husband will walk in from his work week, and the whole family will gear up for the seventy-five minute drive across town in rush hour, where the boy will ask to play the mix CD he made for his girlfriend, monopolizing the conversation with details of his upcoming date, the homecoming game at her high school.

He has had four girlfriends (and they all live on the moon--which is to say he cannot find one in the same area code) but she is different; he is very into this girl and his excitement will be contagious.
Five minutes further into the evening my husband and I will drop him off and awkwardly endure their sweethearts' embrace, clasping onto the hand each will hold the rest of the night.

I will watch them, beginners at making so many memories that have yet to break their hearts, walk together toward the football stands. I don't know how long their romance will last but the week's events have reminded me of these truths: I have not always chosen correctly between ART and FAMILY, usually trying to monster them both in because I need to relate to more flesh and blood issues, not merely to thinkers who are centuries in the grave, and my son may have an intermittent love for books (which I do not understand) but he definitely knows how to latch on to what is real in the here and now.