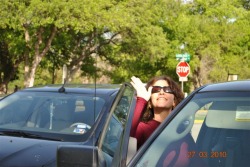 "How could someone do that to us?

How did she know we weren't hurt in here?

Because she didn't care!

She was only interested in saving her own neck," Seamus exclaimed, edging on hysterical (and whose adrenaline wasn't flaring after that car chase?

We had tailed within legal limits while the driver had zigzagged down side streets with no signals, driving in the wrong direction and cutting off other cars to lose us.

I had watched her run three more stop signs before disappearing).

Now, we were waiting inside the cab on the side of the road, the truck's hazards blinking out our precarious position, while Steve finished the police report.

I was trying to keep from vomiting.
"Hear that?!"

Seamus updated, voice gleeful with justice.

"Police just caught her.

She was at her house and her parents gave her up.

Dad says he'll prosecute.

Boy, is she in trouble now--"
"Wait, shhh.

I want to hear this," I lied, turning up the radio because the shock in Seamus' voice showed me he had witnessed a cruelty I wished he hadn't and that something extra, almost sinister, in his tone said it was a lesson I couldn't undo. (Yet if that had been my son commiting the wrong, I would not have shielded him either; he would have had to stand up and face the consequences.)
"Oh, cool," Seamus said, buying into it because the topic was on music.

"It's a rock interview."
At dinner, the three of us held hands and prayed for everyone involved in the incident, mostly thankful for another day to be alive and together, but I couldn't stop my hand from shaking, thinking about the reckless, frightened girl who had hit us and fled, in light of the David Bowie quote we had happened upon earlier:

"

Heathenism is a state of mind.

You can take it that I'm referring to one who does not see his world.

He has no mental light.

He destroys almost unwittingly.

He cannot feel any God's presence...He is the 21st century man." Do unto others as you would have them do unto you is a provacative imperative. I am not vindictive; plus, I have skeletons with my name engraved in their bones, sins I wish I didn't own so if that girl whose name I do not know lets this scenario humble and change her for the positive, then I am content with that outcome and I wish her family well. Mistakes are inevitable and even compounded ones, forgivable, as long as they are mopped up responsibly.
Afterwards, back at home in the hot cave and feeling like the sad heroine in a gothic novel, I lit every candle I owned, hawking over Seamus who distractedly struggled to do physics in its spotty light.

"Let me get you the mechanic's flashlight from the garage."

(Meanwhile, Steve was across the street at the neighbors.

We had run into the family at the restaurant (!) and Steve--who has a locksmithing license--was helping them break into their own home; they used their garage door as sole access and power was still out. . .)
When it simply got too dark to fight it anymore, we kind of fell into a cluster around the flickering living room candles, wondering aloud how things were in the "old-fashioned days" when bodies must have relied on sunrise and sunset to mark their days as candles didn't spark off much resistance to nightfall.

From memory, Seamus played songs on his guitar and I laid back, singing along when I knew the selection or could remember the lyrics.

Steve relaxed and enjoyed the unexpected boon of family time when we weren't each going in separate directions.
I thought about a book I'd seen the day before:

14,000 things to be happy about, a random list of objects/ideas like rainbow fish, the smell of kindergarten glue.

I had to smile, and what a week it had been!

One friend had lost a friend who had suffered painfully for a year and was finally released in death, while another's newborn grandbaby had a rare and chronic condition.

It brought to mind a couple I had read about whose first & only child was born terminally ill, but the 99 days that that infant had lived were spent gloriously; her incredible parents focused on the time they had and loved her like there was no tomorrow (because there wasn't), documenting every precious detail that those of us with time take for granted.

(What I wouldn't give for sa luminous soul and boundless hope.)
I sang a little louder (a) to keep up with my son who was howling like the Alpha coyote, (b) knowing our impromptu jam was winding down like a fitting "Taps" on these twenty-four hours.

E

ach doing our best to hang loose but stay tightly woven on a tough day, raising our voices and our hearts to strike out against a negative canvas.
(The minute we crawled into our respective beds, we cheered, "Woo Hoo!" in unison because the air conditioning had blasted back on. At last.)