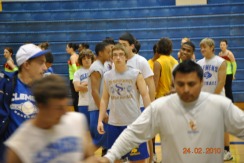 "Well, that just freakin' sucks!"

Seamus says, throwing down his bookbag before kicking off gigantic tennis shoes.

He is soaked and from without in the storm the teen enters, bringing a second, internal storm with him.

If his words hadn't convinced me (they had, potty mouth) than the power with which he had slammed the front door--making the wreath and its flowery antennae--rattle like teeth knocked loose from a punch in the mouth, did.
"Tough day?"

I managed, although I was still having trouble downloading my own strife and didn't feel sturdy enough to yoke his yet.

"Calm down.

Take a breath, and tell me what's going on."
"Epic fail, Mom.

You have no idea.

First, the molester lady at the bus stop, where we waited twenty-five minutes in the pouring rain for the driver—who is never on time this year, and now (his girlfriend) is having a really bad day and is taking it out on me.

First she calls me in class when I cannot speak to her and now she won't pick up the phone."
Before I take my turn and catch you up to speed on where I've been (--Colonial times, the Dark Ages?

I don't know, but it's someplace with no AC or phone lines.

No internet thanks to hurricane Hermine, which was downgraded to a TS although it dumped a foot of rain on San Antonio, taking out our power), I must have details from my son on the pedophile.

"What do you mean, molester?"
"Yeah, this creepy lady in a white car rolls up to the bus stop and asks me and Keith if we want a ride to school," and he raises a finger as if to stop me before I form the question, "which of course I was going to say, No, to off the bat, but then I knew she was cuckoo when she said, Course, I'll take you home to dry you off first, before taking you to school. . ."
"She said WHAT?!"

I sat up in the chair I was slumped in, where I had been sitting on and off for three hours, trying to move as little as possible in the hot, dark house.

"How is that getting you to school on time, taking you to HER house to dry off?!

What did this woman look like?

How old was she and what kind of a car did she drive?"

"Don't worry, Mom.

You've made me watch so many anti-molester movies—and now, I am glad, I am--that you did so you have nothing to worry about.

Plus, I think she was like from another country."
"Bud, you're too sweet—and trusting.

Have you never heard of Made in China?

Do you think places like Malaysia don't manufacture crazies just as well as we can?"

I pictured this woman of a harmless appearance driving around, taking advantage of inclement weather to make her offer to handsome but naive athletes while her killer husbandslashboyfriend waits at the motel with a mask on and a chainsaw in his hands.

"My mind can be a scary place, yes, son, but the world is even scarier (and nowhere near as funny).

--I want to think you'd do whatever you needed to to defend yourself.

Always!

Kick, bite, scream, urinate on yourself if you have to to make her think you're nuts—"
"Thanks, Mom, but I'm burning daylight here," Seamus grinned, pointing at his hulking bookbag, which he had slung back over his shoulder.
"It's gonna be hotter upstairs," I called as he climbed the stairs to his room, "and darker.

Why not do your homework at the kitchen table?

Where there's more light?" (And I can keep an eye on you to know you're safe. . .)
"I will," he mumbled, none too excited at the suggestion.

"Just let me get settled first."
I watched him go and his voice fade, wondering what had happened to the Thousand Acre Wood?

How many years ago was it

when he, voice of exasperated innocence and inexperience, used to argue, "But, Mom, they said it on television!

It HAS to be true."

To the time when my boy was incapable of an interior thought, broadcasting them all?

And why did I feel, now, like the inverse was true, that there was so much more he was privy to that I did not know (and probably would not have liked)?