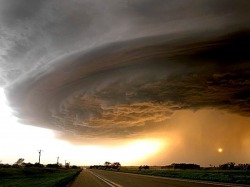 The neighbor's loud motor jarred me awake, as usual (he gunned the engine, warming up the clunker for 15 minutes every morning in order to get to wherever he's going).

Then it was the trash truck lifting & crunching and, finally, a redundant alarm that told me to get cracking.

I heard the rain before it drenched me, since my car was in the drive.

The wipers whizzed as fast as they could go but the volume of rainfall made visibility dangerously low and when eighteen-wheelers--which Texas seems to produce--blasted past I was blinded, holding my breath and my spot in the lane until I regained that five feet of road I could see in front of me.
It took forty minutes to drive 15 freeway exits, knuckles death-gripped around the steering and hands aching when I reached the office.

As I packed up my thermos and appointment book, I noted HAZMAT trucks parked in the fire lane and when I walked into the building a fleet of industrial fans and dehumidifiers blew plaster, dust, work boot dirt and flits of fiberglass into the air.

The sneezing started immediately and my eyes watered the rest of the shift.
The building had flooded over the weekend so furniture was piled high, carpets were rolled and every available garbage can bulged.

Baseboards had been removed and left out to dry, nail side up, and drywall had been sawed off where it had taken water, exposing the pink insulation which blew about like cotton candy at a fairgrounds.

Internet was down and the motherboard on the main computer was fried so my job that day entailed clean up and damage control for incoming calls.

Although none of that was storm related (a pipe had burst in the kitchen), we did have a separate flood issue:

the stone column at the entrance absorbed all the standing water it could and became saturated, flowing so rapidly out at the base of the windows that it would pool a second after you'd mopped.


After work I drove home, a repeat performance of above except that the weather had worsened and the wind, picked up.

Because the community's gate had worked fine, I got mad when our garage door wouldn't (my pants had just dried off from the morning's interlude).

It wasn't until I had stood under where the roof drained (directly above the electronic garage door opener mount) and manually punched in the code numerous times that I realized the power was out.
You don't gauge dependency on technology until forced to go without it.

No power means I cannot open the garage to stow the flag we left out from Labor Day which was blown off its pedestal and rolled back and forth across the street, giving our trash cans a run for their money.

I could not get online to see what Sophie had made for dinner or boil water myself--while the freezer defrosted.

(CPS had no updates or ETA for service to replace the burned out transmitter and with a reported 95,000 homes without electricity what could we do?)
. . .So, it was here where Seamus' and my yesterdays intersected.

He had come home to find me in this dusky room contemplating my own woes when he had flopped in, irritated that his girlfriend was having a meltdown over losing her job—and then his overview had made me want to hunt down his stalker from the bus stop.
"Power's out.

Why don't you just go pick up a pizza?"

I suggested to my husband who had walked in right after Seamus.

"Out six hours and counting."

"Then everybody get in the car," he'd said instead, opening the door back up.
I had lost all motivation but at least the rain had also stopped. . .
"What in God's green earth was that?"

I asked a minute later, rubbing my neck because I had been thrown against the seat belt and the force had snapped my head forward.

We were stopped at a red light on the main thoroughfare to the restaurant when I had felt a strong but muted hit (Steve's F150's heavy-duty construction had absorbed the impact, blunting it).


In the second it takes you to register that you have been in an accident, the car that had plowed into us had spun around in an illegal U-turn and was getting away, smashed front and all.

The guys took longer to process than I had but Steve kicked into gear and followed suit, pursuing the law (and jaw) breaker.
"Get his license plate!"

Steve yelled, calling 911 as Seamus and I scrambled for a scrap of paper.

"I'd like to report a hit-and-run."