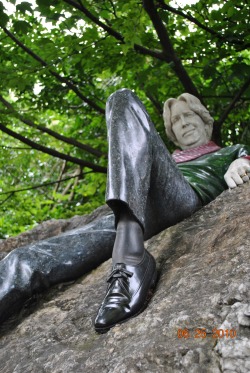 Tapping the steering wheel, I turned on the radio, resigning to reality:

I could go nowhere.

Police had coned off three lanes and were driving ahead of us like escorts to a funeral.

(Was George W. in town again visiting the ranch so the freeway's closed ahead? Because the miles of road I saw were free of accidents, construction, and street cleaners.)

Exhaling in frustration, I clicked on the hazards, braking until my speed matched their leisurely 45 MPH.

And just when I thought my contemplative post-work drive, where I unpacked stressors, was undone by gridlock the lyrics of the song that filled my car also invaded my headspace, putting me back in Dublin in front of Merrion Square where we learned about the Georgian mansions across the street.
I carry your warm disillusion with my pathetic confusion
Kept me from speaking the truth.

I am simply a coin in your fountain
Lost like the seconds I'm counting till I am closer to you.

"Dublins wealthy lived inside these 5,000 square feet estates but that's top to bottom.

They're actually 4-5 pretty narrow floors.

They had running water poured into the basement—as well as coal deliveries.

It was very sophisticated for the 1800's, but imagine being the maid who had to scoop out that coal for the fireplaces located on each floor or carrying bucket after bucket of water up all those stairs."

Our guide went on to thrill us with other brilliant factoids.

"All of the bricks on the houses you see there before you were ballast from the ships."


Steve, a retired Coastie, loved that and couldn't stop explaining what ballast was, but my mind fixated on the woods behind us and it was the tour guide's doing (we had a different expert at each location, in addition to Liam's overarching wisdom, and we were to tip them all).

But ever since Mary here had told me about how Oscar Wilde, born to Dublin intellectuals, had been praised at the toasty tip of society and then imprisoned by the same crowd who had celebrated his genius (when it suited their fancy), I wanted to commune in the park with the witty expatriot (who had grown up in those mansions but had died young, broke & brokenhearted, his ex-wife changing her name to distance herself from his infamy).

--Or at least go visit his statue, which peeked through the trees.

I shot off the bus when released and raced to the park but couldn't find the entrance. (All that talking on the bus and now we only had twenty minutes to see it for ourselves.)

W

hen I was ready to hop the fence, a girl with a Trinity College backpack past, showing me how to get into the square, legally.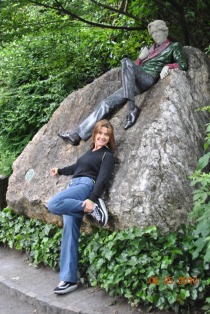 Seeing the statue up close, however, standing next to it and looking into its earnest but ageless eyes made me sadder. Oscar's future had been most promising, a thoroughfare with wide avenues open in every direction, and that had siphoned off into a single lane which skidded off the charts. The Queen of Aphorism who had given the world such truths as, "Every woman's tragedy is that she becomes her mother. Every man's? That he doesn't," ended life like a leaf, guttered down the storm drain and drowned in despair.

This glintzy remembrance seemed foppish and a little too much, a little too late.

Oscar had been ritually destroyed.

This was a compassionate gesture in its posthumous erection (?) but did the statue--garishly set with precious stones & gems--compensate an iota for the way he was publicly hung for his lifestyle?

Spit in the ocean was the phrase that came to mind.

That and Royally screwed, literally.
But luckily for us, generations to come, not literarily.

Long live Oscar
Fingal O'Flahertie Wills Wilde
.