Picture of cast and crew: who is who?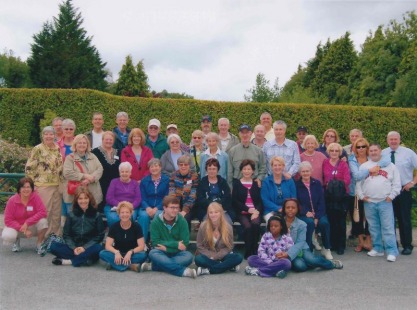 Some pilgrims were wet, few were wee, & two latecomers hailed from a capital in D.C. but as fate would serve it, an itinerary we shared, we all met so oddly on June 23rd. Around airport booths worlds netted as fatigued flyers fell one after another into the Dublin pub.
Ah, there, my dearest friends, was the rub:
none were ready for us & we felt stuck, not yet accustomed to Jameson whiskey hitting before grub. Traveling were sisters two & a set of brothers, two pairs of daughters who had brought their mothers, a nana & grandbabes, a hodge podge of bodies with stories yet untold; where ere we'd been was now unseen but luckily before much more delay details would unfold. A set of newlyweds, older than you'd think, sat huddled for the call then stood in the hostlery hall to freshen up in the restroom sink, waiting & waiting we six and thirty were for our coach.
A former pardoner was itching to break into song, almost losing his relic, a nunly bride who tagged along. An ex-policeman in company could have seen the problem through & with as many teachers as we had onboard one surely could have taught the old principal what it was that we needed to do:
get moving
! As for me, the red-stockinged she, I longed to be a woman who had had a recent bath & not to tarry so long as we had down this troubling path. I came to this land for adventure & prayed soon we might start. Oh, if only I could slip out into the sun or to bed--to a foreign stead to rest my head, my heart (I hated this part of journeys). There were more faces than existed my talent for the math but even the retired here sought a purpose--to laugh. Weary in the same boat we all had measured our discomfort against the chance to pack up our small bundle of stuffs for the elixir of learning
The Siege of Ennis
, a reel, a new dance. Hungry (for
Chaucer
we left out a saucer of milk, toast).