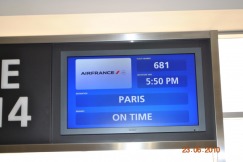 I knew a man in graduate school who called himself a cyclist.

This had nothing to do with his current health (he smoked a pack a day and looked to be in his eighth trimester) or exercise regimen, but he insisted he qualified because for one month of his life, many years previous, he had ridden his bicycle everywhere; it was while he was trying to kick the habit and because of the biking he had lost 18 pounds.

He had not, however, strapped his helmet on since but give him a beer or two and he would find a way to launch into his cyclist delusion.

Where was a clue or a vial of truth serum when you needed one?

Ever know someone who identifies herself one way when her personality and skill set contradicts the self concept?

Might this person be you?

I love to travel and want to see the world, but I have no idea how I am going to get there because I hate flying.

I am not afraid of flying, I just cannot sit still hours on end or sleep in those airplane holding cells. They're like cramped baby seats for big people that don't rock.

And how will I get to Belgium, Russia, or Greece without a long, monkey-butt of a plane ride?

Flying

to Ireland this summer, however, sitting still for inordinate lengths of time was not my only problem, I also happened to be seated behind a madman.
The man in the row in front of us went ballistic not once or twice, but three times, standing and turning to scream at me and then slamming the weight of his anger into the back of his chair shoving the tray table into my knees at 2:30 in the morning.

The flight attendants could not calm or appease him—and apparently there are no air marshalls outside the U.S. or he would have been arrested inflight after he threatened to harm me and then my husband, who had spoken up in my defense.

It was such a crowded flight (seats in three clusters and packed ten across--plus, it was double-decked with as many rows overhead up a petite internal staircase) the woman in charge could not find a change of seats for Steve or me—because I had asked!

Then, too, who would have agreed to switch and inherit that wrath?

Not many could have remained sleeping after the lunatic's final tirade but those awakened feigned sleep for fear they might be drafted into the new seat assignment.

I was appalled and finally humiliated that I had to absorb his verbal and physical abuse.

–I wanted someone to give him a detention, send him to the office, write him a speeding ticket, something!

Nope. The jerk got off scot-free.

Where's a taser (an abandoned elevator shaft, an eject button) when you need it?
In 1988 William Hurt made a great movie about problems with traveling/during travel called, The Accidental Tourist, but if he ran across a passenger like I did on our way from Atlanta to Paris—the leg of the journey that ran through the night—then the travel writer kept that experience to himself.

The only thing that makes a nine-hour flight more difficult to endure gracefully is an impossible fellow flyer.
When we--terrified and exhausted--arrived in Paris the next morning, the belligerent flyer sauntered off the plane in front of us like nothing had happened, and the rest of the folks on the flight refused to make eye contact with Steve or me as if we were somehow responsible for ruining their voyage, when in truth they were probably helping us save face—or themselves, ashamed to have witnessed an injustice and been in no position to address it.

Where was a second chance and a fast-forward button, or a hot tub, a warm friend and a sleeping pill when you needed one?