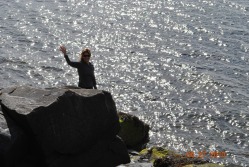 A thoughtful question deserves a thoughtful answer, but not a careful one as careful answers tend to be clever ways writers hide, semantic side-steps of avoidance—and I do not want to dodge your inquiry so let's get into it.

First, yours is a question already posed by my friend, Jeff, but when he wrote WHY? to my awkward declaration that I had a website that would include a blog I had responded, "Because, Mr. Backyard Barbecue, some of us aspire to live lives beyond the daily grind."

Me KNOWS the lady didst protest too much and the poor man slammed face-first into my graceless defensiveness, which had flared because I felt tender in the new endeavor.

His curt remark was discouraging because I took it as a reproach:

What would you have to share? and Why would I care?

This time around I'd like to take a better approach.

Having taught for fourteen years I have encountered thousands of students, many of whom wished to be forgotten as English was a mandated class they had to endure for four lousy years and, in a dusty drawer out in the garage, I still have rosters full of names but, while I keep these legal documents that I never look at but cannot bring myself to throw away, the individuals become vaguer yearly and I am losing each young face that my mind had paired with the corresponding names; soon they will fuzz into oblivion.

--

But not you who opted for a 5th course in English as an elective, and if sheer want for something were the key ingredient to its imminent success then your thoughts would adorn bookshelves.

So you must know how happy I was to reconnect with you this week (yes, using the ubiquitous social network, speaking of recent trends) and to hear that you are in strong pursuit of a dream I only glimpsed when you shyly entered my classroom and memory.
I could argue this backwards, Why NOT blog?

Am I an elitist who is too good for blogging?

Writing like music or food serves a purpose and, whether formal or informal, each meets a separate appetite, and although it is true that a lot of writing is garbage before the ink dries, as much as I enjoy high art and high-end cuisine I am not up to the demands of great literature every day; plus, I have other moods that merit entertaining.

I indulge in many guilty pleasures.

Think about it in terms of karaoke:

I have a bit of a karaoke addiction but will singing it make me famous?

Will I ever be discovered in a tiny bar where I am pretending to be Pink?

Did you know, Daniel, in addition to four manuscripts of poetry I have completed four novels and started two others; there is also the bones for a screenplay or two in a folder on my laptop, but, seriously, aside from a few dedicated collegial friends and fellow academics, who has read any of it?

Or ever will?

Or will appreciate them, assuming he/she had access?

Will my blog line a birdcage or end up wrapping fish and chips in England?

I would rather reach one audience for a day than to talk to myself or engage in self-reflexive conversations; the very idea of Emily Dickinson's isolation frightens me.

Worst-case scenario, will singing karaoke detract from my character, demean me or diminish my capabilities?

Can it dent my essence?

I blog.

I am a blogger.

I blogged yesterday, I plan to blog today, and hopefully, I will be inspired to blog tomorrow.

At the risk of insulting you with the obvious, shouldn't we enter the race--perhaps as many races as we have the energy to run--striving for artfulness in all things and elevating the level of competition, if needed?

I am forever discovering areas of inadequacy, ways in which I need to be developed; for example, another young friend inaccurately quipped today, "Do you ever just listen to your son instead of making him white noise?"

His is a mistaken impression that could send me on a misguided mission:

we cannot inhabit all stances simultaneously or cover global terrain every time we pick up a pen.

Sometimes our focus is to be on the birds, the two who have scooped down to drink from the fountain outside my window; because the motor is broken the spray is only a trickle that has algaed over the rocks in the extreme heat, but the creatures are desperate enough to drink from it, and you know what?

It gives them enough to sustain life for another day.

It is in drawing the small that we capture the larger but more abstract concepts.
I want more than to be a tortured soul, gravitating toward the dark and heavy (and therefore more profound?), but I also have no intention of tweeting what I ate for lunch (unless it is a departure point leading elsewhere).

Daniel, you may be crying but it won't be in Lot 49 and I do, indeed, have a room of my own (several) but in the deepest sense Woolf meant it, what if blogging--an additional avenue for expression--turns out to be my only room?

I do not know if it will be room enough, fancy and prestigious or even lasting enough, but I do know that you will never be Thomas Pynchon and I can only admire Virginia because those seats are taken.

I am responsible for who I am today and saying what I have to say and, ideally, as this new channel for communication evolves so will my craft.

Why blog?
Because too much curiosity slumbers in the rafters of my soul for me not to play across this verdant pasture, and I feel like the Irish sheep I saw this summer kicking up her hooves and delighting in the rain.

Blogging, I wade into foreign waters and, for now perhaps, the temperature in the shallows is just fine.