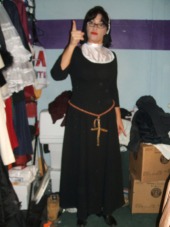 I should have been a judge
, I muse on days when I am levelheadedly weighing a complicated moral dilemma or political issue and, Lord knows, the Sisters at Villa Angela Academy hounded my younger sisters who had the mixed-blessing of trailing me into high school, Has Rita become a lawyer yet?

This was not a profession I had shown interest in--I think the nuns implied that I was expert at debate or experienced, perhaps, at excuse-making--
and I wouldn't have lasted ten minutes in the law field.

I would have exploded at an injustice (and been disbarred & jailed) or wound up bald and penniless with a roaring drinking problem which compounded the ulcer I'd acquired while trying to defend victims who couldn't afford a better attorney to win claims against corporations or the often-scandalous insurance industry.

And, I could never have worked for defense unless I was 110% sure of the client's innocence; otherwise, I'd suffer hallucinations (side-effect of chronic insomnia) from inside the fortress of my McMansion, plagued by more unwanted visitors than Scrooge, visages of those I had wronged so I could have a pool boy and afford to erect marble statues of my dogs throughout my maze-like gardens.

There would not be enough money, distracting vacations or hobbies in the world to restore the soul I had pimped.

No matter where you work or what you do for a living every job has pitfalls & goofballs.

As a teacher I had impossible-to-please principals who never smiled, and those who all they did was smile (and I mean that's ALL they did.

They stood in the parking lot before the bell to smile at parents who dropped off kids and then they hibernated in their offices, done for the day).

I had errant directors who took credit for my work while playing hookie days at a time with golf buddies, letting the uneducated Nazi-secretary boss around the staff and student-body whenever she wasn't sleeping or playing solitaire at her desk.



Finding a comfortable work climate is a bit like Goldilocks testing bowls of porridge because if your administrator is attentive and fair with good people-skills then you will wind up with a dingbat for a coworker.

I've worked in the trenches alongside inspiring educators who have worn themselves out designing dynamic lesson plans, and I have had to endure the ones who party the night before exams and want to copy your final (the one you gave up your weekend to draft) to give to their students.

When everyone is drawing the same paycheck discrepancies in work ethic can grind your bones to dust, especially when The Blind Eye is in effect.
Any office employee knows it is not Kevin the Flatterer who stalks the water cooler to gossip who keeps the company in business, and good impressions are important, but shouldn't there be more than veneer to the smile, a solid and functional base beneath the surface?

This situation reminds me of when Jesus visited friends, Martha and Mary, a story that drives a lot of industrious people I know crazy because over time and through interpretation (which can operate like statistics—concocted on the spot to extinguish competition and to push one's own projects forth) Mary has become the patron saint of slackers while her sister, Martha, was cast as poster child for anal retention.

Both are extreme and inaccurate and neither touches the point of the scripture, which is to use your time wisely to enjoy the people you love.

--But somebody, ladies and gentlemen, has to bake that cake (and I don't know about you but when it is dinnertime I need more than food for thought)!

And it shouldn't always be the same person.

Maybe if Mary stepped forward and offered to lighten her sister's load, then Martha could get off her feet and visit with company.

(Honestly, though, I have met those who seem to be on vacation wherever they go.)
Like it or not everyone has an agenda; some are just more pronounced.

For example, watch the laidback bandleader who says, We have no rules.

Then, experiment.

Attend rehearsal for a stint and note what songs are picked, who sings them, and how often?

The longer you survey the underpinnings the more the contradictions become visible.

Members of the band are family and friends (all of whom are paid), enjoying privileges the singers—who may vary and do not receive a dime—don't.

It isn't necessarily malicious but selection is a form of control, and w

e tend to compensate who & what we value.
As one who has tasted a lot of porridge (and seen the perfect bowl become cold & inedible, as well as waited out the hot until it hit the right temperature), I say set your bar high and work with passion, doing the best you can not to be derailed by those who don't--and know when it is time to wash out your bowl or to start looking for a new one.