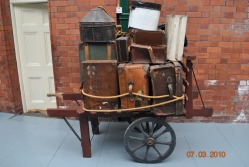 "It's not there,"

Steve said, stamping his foot as our eyes followed the same four bags around the luggage carousel, making another round.

This is the whirlpool we'd been directed to go to to claim our things thirty minutes previous.

"What's not where?"

I asked, although having seen our fellow passengers identify their belongings and wheel them away and my husband wring his hands told me that we may have finished the voyage but our luggage hadn't.

I was in denial because I couldn't process the disappointment.

We had been traveling between time zones for almost 28 hours, we hadn't slept but had had that run-in with Banshee Man (Polyphemus) and Con-Airport Girl (Circe, magically making our money reappear), and all I wanted in the world was to brush my teeth, wash my face and burn the clothes I wore.

I had been in the same outfit for what felt like days, my tights blistering under boots I had thought were practical enough to make the journey, which was turning into an odyssey. (Tough as getting back to Ithaca proved to be for him, how did Odysseus explain a 20-year absence, missing Telemachus' entire childhood? I couldn't stand it. I missed our son already.)

"I'm sorry.

Name again?"

the tall, dark Irishman asked, already searching a list of names in his Black Hole log but when he nodded and drew a check that was next to what must have been our names, my brain slowed its motion, watching Steve file forms to reclaim our baggage which was still somewhere in Paris, the new nexus of all things distressing.

Why, oh, Sweet Ladies of Spain, did my first authentic brogue have to be from the mouth of the babe behind the Traveler's Assistance booth?

He was like a sentinel of Hades and his was cruel & unusual hospitality.
"Now, what?!"

Steve exhaled, face reddening as we fought the throng to find the CIE counter where the brochure said a guide would pick us up and cart our luggage to the hotel.

"Itinerary said the last airport tram leaves at noon.

We need to find it and check in.

If we miss that we'll have to pay for a taxi ourselves, which is fine, but I do not know what hotel we are booked at tonight."
I lagged behind my husband, feeling like a character I had seen in the original filming of The Grapes of Wrath, completely rung of color and rendered black and white with skin as dry as the dust around her.

Hours ago I had stopped looking at my reflection in shiny surfaces when I passed because I felt like I had aged six years since I had left Texas.

Slainte!

(Gaelic for 1,000 welcomes) signs were everywhere but I wanted to find a quiet corner to have my pity-party in but couldn't so I looked down and kept my eyes to myself to signal that my spirit had closed up shop.
When we found the CIE tour company booth, they told us their noon tram was delayed and that we needed to tell the clerk at Traveler's Assistance to send our luggage to the Royal Marine Hotel.

CIE said we could use their phone to call the man who was half a mile away down the terminal corridor but the five times Steve tried, the phone was busy.

So we, Mr. & Mrs. Sisyphus, decided to walk back and speak to himself in person again, but when we arrived at the booth the counter read CLOSED with its iron grate locked up tight. . .