. . .Singing cockels and mussels alive, alive ho.
The ten-foot tall likeness below is all that exists of sweet Molly Malone. As holds true with the Statue of Liberty, and Juliet Capulet's balcony (where the lovesick flock to tuck messages between rocks), these objects/places represent a romantic nostalgia or era rather than historic fact. None of the three: Liberty, Molly, or Juliet was a real person but a composite of many the sculpture, songwriter, or poet put together--especially Liberty whose inspirations were the architect's mother (face) and his mistress (body), a bodacious size 14 at that. But like in Staten Island & Verona, two million tourists a year come to Dublin to take their picture with Molly who has become as iconic as the Blarney Stone. Dublin is referenced in much popular culture, and three recent money-making films were shot there: The Commitments; Angela's Ashes; and My Left Foot, the latter two based on true stories about tragically poor contemporary Irish writers, Frank McCourt, and Christy Brown (who suffered from cerebral palsy but wrote & painted with, yes, his toes).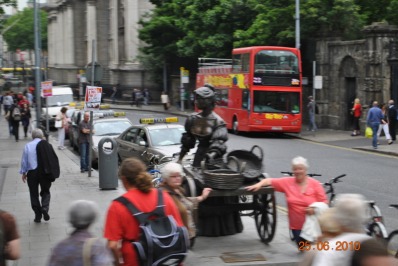 Molly Malone's Bronze Breasts, things of inspiration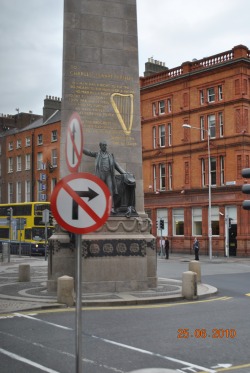 Dublin was like the beautiful but bearded lady at the World's Fair, a lot to take in at one sitting. And, at the risk of getting pelted with rocks, I think all downtown international cities are similar, that is to say, they have more in common with each other than other parts of the country:

great art, diverse eateries and active public transport and they're overrun with

history, hotels & hot spots as well as tourist traps, traffic, & transients.

The city was flushed with so much traffic (foot & vehicle) and history—guides pointing things out over their shoulders as we sped past (those first days especially when in my frantic excitement I tried to write every detail they uttered), I am sure I missed most of it.

Looking at my notes now I can do nothing with the less than insightful fragments:

"home of Molly Malone, the Dublin Spire (120 metres tall, highest structure in city) aka The Erection in the Section; The Rod to God; The Phallus by the Palace," and "Trinity College (somebody important buried there)."

--

From all the blue nicknames for the Dublin Spire, though, could it be hard to tell that we weren't far from the origin of the limerick?
"You can pick a tour of Jameson Distillery—although most Irish whiskey these days is from Japan.

I kid you not.

How sad is it that it must be exported than imported back into the country and it's still cheaper than buying the stuff direct?"

Liam lobbied on the bus before dumping us at either brewery. "Or, go to the Guinness Storehouse.

Your tickets are paid for with this tour.

For my money I'd go to Guinness, not that they give me any kickbacks for saying their name.

Or that they'd need it.

They own most of Ireland as it is, or used to anyways.

Both places will give you a free drink after.

And then you can take on the rest of Dublin as you see fit on the hop-on-hop-off bus.

Pick up some lunch too while you're out and about, but make sure to be back at the hotel and ready for dinner at 6:30 sharp or they won't seat ya."


"Top of the morning to youz, then!"

Liam announced as he opened the door of the bus to release us.
"And, the rest of the days to yourselves," everyone chimed back as they clomped off.

It was one of his touristy things, a moronic montra I would refuse to repeat after my third tired morning on the bus.
"Till dinner, then," Liam finalized, closing the door with a motorized push of air as he zoomed off, leaving us kind of dazed in the street, not knowing where to begin to tackle this metropolis.