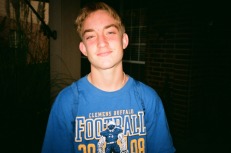 "Why can't I see your website?"

Seamus asks, strumming his guitar which I have learned to block out since it is omnipresent, the involuntary soundtrack to our every move.

Now at 16, with two years of lessons behind him, the boy is quite good and the stringed-instrument that has been grafted on as a body part is better than the text addiction his generation has gifted to history, but what became of the golden sounds of silence?

The ability to hear oneself think?
"You can.

When I'm dead."

Music was all he talked about anymore:

here was the joy of my world, a sharp guy with a nutty sense of humor I thoroughly enjoyed, a young man soaked in potential, and he wanted to be a rock star.
"Mom, that's gross," he said, belting a verse of the song he played.

I didn't know the tune.

I never do—and I know lots of music.

"And ridiculous.

I'm not stupid, you know.

And I.

Am not.

A kid."
"Then go see it, honey.

Get your happy little fanny upstairs and hop on the computer.

It's in the public domain.

Some things are adult, is all, acquired tastes and I just don't think you'll get it.

It is definitely not entertaining

.

There are a few pictures but you pretty much have to READ, like in those foreign films I like.

With subtitles." (He had stopped reading for pleasure altogether in the 5th grade, a true shame.)
"Yeah, why would anyone ever want to

read

a

movie

?"
"There you have it.

You live in your universe and I inhabit mine."

I preferred lower budget movies in part because they have no sound--except the actors talking too long at cafés, sometimes in traffic.

I've no threshold for the standard forcefeeding of music imposed over (supposedly) dramatic scenes.

Who needed someone else's version of emotion translated into chords that will never wrench from my heart what the script and the acting cannot?

For my part, I would rather they stow the

climbing violins and not tell me how to feel.

"You read it already?" I asked Seamus nervously, as he had already bounded back down the stairs. "Well, what'd you think?"

He was quiet for a minute. "Uhm, honestly," he swung his long hair like a horse swatting at a fly, "I found it a little boring. Kind of lame, sorry, Mom. I'm gonna go IM some friends."

I just nodded, listening to him sing over the music that blared through his ipod, telling myself that it has always been something with our son, one obsession or another:

Star Wars, Pokemon, Harry Potter, video games, Chuck Norris jokes, anything dealing with zombies, the Dallas Cowboys, and now it was girls and punk rock.

Everything comes in a flood to the extinction of other interests.

But maybe his desire to be the next Bono would also pass. . . Besides, what teenager wanted to be anything rational like an X-ray tech or a podiatrist?

I sure didn't at his age, and as an adult I still wasn't very practical in my ambition.

How could you be?

It seemed at cross-purposes to have your dreams too close to the ground.

G

rown-ups were no different, just more adroit at working new fads into the rest of our schema, subtly adding hobbies and integrating them into old patterns.

The topic made me think of Thomas Jefferson—but, then again, that didn't take much.

With me many roads led to Thomas Jefferson, the ultimate Renaissance Man, because I have had a silly intellectual crush on him for years.

In reality, in addition to the fact that we were born eons apart and he traveled in a circle I could never penetrate, he was probably a womanizer with periodontal disease but I don't care.

In my mind's eye he is articulated perfection, mankind evolved and cultured and, for God's sakes, what we should all aspire to be.

I mean, the man spoke four languages, had a law degree

and

designed Monticello.

He could melodiously coax the modern songs of his time from his violin and he sang like a songbird.

I don't imagine he danced as sensuously as Antonio Banderas, but Thomas was politically refreshing and he sprouted many original thoughts (not to mention a rumored passel of gorgeous but illegitimate children with Sally, his slave mistress).



I surmised that that probably made him an ardent lover, wondering if I could talk Tom into an overdue haircut, when Seamus interrupted my daydream with his burning question.

"Mind if I web troll for awhile later? And, when did you say I could have my band over to practice in the garage again?"
"Can't hear you your hair's in your eyes but what's the state of your bathroom & is your Spanish done yet?"

I listed because from here it was beginning to look like he planned on a future of amusing himself to death.

"School starts in two weeks. . ."