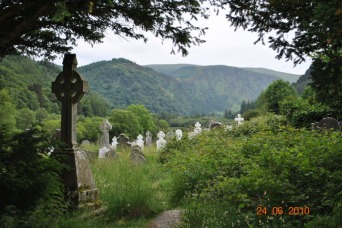 Needless to say, dressed like RuPaul in tights and laced-up boots I did a lot of hiding behind things at Glendalough (meaning "Glen of Two Lakes," think of lough as loch, as in Loch Ness).

At first I just used Steve as a shield but then I got pretty good at diving behind head stones when those I was beginning to recognize as in our group snapped shots of the glorious countryside or the glacial valley.

(Steve got why pictorial reminders weren't a great idea, but I also didn't want an IRELAND 2010 group email from one of them to surface with me looking like a beast that first, terrible day, a shame I wanted to stay buried.

Although I must laugh, thinking it might've been funny if someone had inadvertently gotten the edge of me in motion as I scurried away like Bigfoot trying not to leave a trace of my existence.)

Luckily, we have loads of landscape photos because this is what we had come all this way to see and it was every bit worth the struggle.

Looking out over the granite hills and woodlands I breathed in the peace of the only country in the world more beautiful & lush than its pictures; you could almost understand why Ireland had such a long history of fighting.

This was land worth having and defending to keep.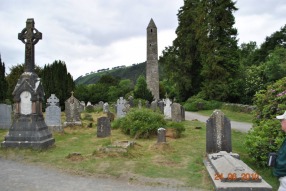 "You know," a lady with a combed tuft of white hair said, speaking in soft tones because she had sensed from my bizarre behavior that I was that fragile at the moment, "when my husband and I travel, we put half our things each in different bags.

That way, if one is lost we still both have something to put on."

"Neither suitcase made it," Steve piped in, hearing the tip and explaining why it wouldn't have solved this dilemma. (SIDEBAR: Besides, the tour company allowed only one bag per rider and no amount of money could buy you space for a second.

The bus boarded forty passengers and there was no room in its cargo hold for two bags each.) Another lady overheard that and offered me a pair of tennis shoes once we got back to the hotel. Every can master a grief except he who has it: I just smiled, soothing myself with Shakespeare but wishing for Harry Potter's invisibility cloak.

"Why not take your credit card and go buy some clothes?" suggested a man with large spectacles that made fishbowls of his eyes, a guy we would soon know as Ray.

"Honey," his wife countered, punching him in the arm, "I think they can figure that out for themselves.

Didn't you hear Liam say they JUST got here?

They haven't had time to do anything but get off a plane, into a taxi and onto the bus.

They didn't get here a day early like we did so we had time to rest up first."
I stared intently at the ponytailed guide, hoping to set a good example for my bus companions who required help in changing their focus. "Disestablished," the young man finished, and I have no idea what he had been discussing but there was a word I liked and could get behind.

"St. Kevin, who established the monastery and died in it in 618, wrote that he fought a monster here; scholars now believe that he was fighting temptation and his inner demon, or what Freud would call his ID. Regardless, his fame as a holy man spread until many migrated there and it became an Early Medieval settlement. In feudal times, especially, each needed the help of the villagers around him to ward off the evil that lurked and make easier the burdens of their harsh lives. They were a community whole unto themselves, but imagine how unfortunate that was for the hermit priest who had come here to live out his quiet monastic life."

"Sounds like he was a big hit," Ray muttered and his wife nudged him again.

* * *
We got back to the hotel at 5:55 pm: still no luggage. . . We dined, dressed like vagabonds, alongside the still-grand wedding guests. Then, at 8:30pm, we left for the store to purchase some things before they closed. (Good news was that the hot fish & chips were ambrosia and the cold, fresh Guiness, nectar; plus, this was one of two places we would stay two nights, otherwise--with ten hotel stays--our luggage would have trailed us around the country.) But as we passed the lobby, we spotted our suitcases behind the front desk: Steve's wheel was broken, and my case was badly dented and its pull-up handle no longer worked.