This installment sounds like a sordid Disney title, doesn't it?

Something Wicked This Way Comes or Through a Spyglass Darkly.

But the quote, soon explained, has everything to do with Ireland and with weddings in general so it is a great segue and a fitting start to the summer's travelogue on the Emerald Isle.
Ireland was the place on the planet I most wanted to visit and there we were, my middle-aged husband and me, taking in the entire country on a twelve day excursion.

The trip doubled as our annual vacation but it was a gift for our tenth anniversary, one we had been planning since I discovered the itinerary my dear Stephenius had tucked into my Christmas stocking.

(It was the most extravagant thing he had ever done and it couldn't have come at a better time; he had revealed his master plan after our evening walk with the dogs when the excitement of the morning's unwrapping seemed more distant than it was, when my post-holiday depression always seemed to hit the hardest.)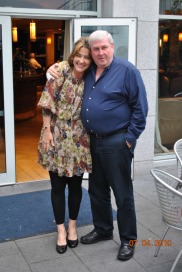 Meet Liam, our bus driver. (I am the one in the dress. Note the woman with her eyes closed. This is because Steve and I cannot agree on when NO BLINK time is on a photo. He tends to take a long time to snap a picture and so, after 100s of photos of me staring with a gaze that could bore through steel because I had held the pose until my eyes watered in their need to moisten and close, I decided to blink before the shot and, thereby, have a more natural expression. . .Ahem, that was about the same time Steve decided he wouldn't take a century snapping the shot. He figured he'd catch me early. "Picture on Three. One, Two--" and he snapped, right when I was stretching, pre-marathon. . .Oh, well. We'll figure it out one of these days;-)

Liam was as chubby as St. Nicholas in a Norman Rockwell likeness and as opinionated as Archie Bunker, and he had been a tour guide for 35 years, as long as he had been married to the same woman who had born his six children.

Liam was also lucky enough, he told us, to have "scooted" all but one "out of the house."

Yes, he had seen five of them married, and then he had had the misfortune of seeing three of those end in divorce.

"But there'll be no more moving back in here with your Mum and me, see?"

he had declared, but two of his fully-grown and divorced "children" already had. And, at the end of the summer, his "baby," a last single daughter, was about to "marry a clown. Oh, you find that funny, do you, Ray? Just wait'll it happens to you."
Liam cracked the whip (we had to be strapped into our seats on the bus with breakfast in our bellies at 7:45 a.m.), but he was also easily the most likeable person I had ever met and I would trust him with my life, but then if you've ever driven down a narrow Irish road with traffic rocketing toward you at breakneck speeds down the single lanes, you would know I would have had to.

He talked to us (and sometimes at us) the whole while we rode, and weddings came up as a hot topic our first night because there were two wedding parties at the Royal Marine Hotel we stayed at in Dublin, an old mansion type exterior with scenic views of the glistening ocean on every side.

From the red carpet rolling down its grand staircase and out the front door to the Waterford crystal chandaliers, y

ou couldn't help but picture the albums that came out of such scenery, photos that pretty much took themselves.

(All a body had to do was get out of its own way and let Nature take her magificent course.)
"There you have it," Liam gushed, sucking in his teeth.

"There'll be no sleeping tonight.

Not for none of us. Weddings are big business here.

Maybe the biggest, next to funerals, of course.

Well, like in the states, only grander."

He went on to say that the average wedding for a standard income earner there cost $35,000 dollars. "But see, remember, that any one invited would be expected to spend 400-500 euro (roughly translated, that's $600-700) a family—400 for the couple's getting married and 100 euro for the she visitor to get a new dress, a killer pair of heels, and an updo."

"But, the Irish, you know, are hopelessly practical, regardless. Not necessarily known for romance, if you take my meaning," Liam insinuated, cursing under his breath, although seated back in the eleventh row it took the jolt of the coach lurching to the right as if up on two wheels for me to understand that we had almost participated, first hand, in one of those Irish funerals he had mentioned. "Why, it's not unusual for a typical Irish proposal to consist of a single sentence: How would you like to be buried with my crowd?"

Apparently, every phase of the Irish wedding was ushered in with alcohol. A champagne meet and greet started it off, apertifs followed by elaborate wines and liqueurs were served with the meal, post-dinner drinks bled into after-hours parties--a reception after the reception--that lasted until morning, and, finally, weddings ended with huge frys (breakfasts) the next morning. "All that money shelled out when by the end of the night the dress will be stained or sagging, the heels will have long since been kicked off & under the tables, and all those pretty little cinderellas will have unfurled hair now, loose all over the place.

--Why e

ach and every flawless beauty you see standing before you in those lines, in a few hours time, will look like she's been drug through the hedge. Backwards. I tell ya, I've seen it.

Happens every time.

A

in't kidding.

Sure, I wouldn't lie to you, now would I?"

I laughed at the universal truth of it (a wedding is a wedding is a wedding) and how Liam had expressed it.
I believe I have seen that hedge.

How many times has that she visitor been me, shoved into an overpriced but godawful bridesmaid dress built only to make the bride look more stunning still?

All those chicken & line dances du jour performed in torn but stockinged feet, sweat streaming down my smiling face and mascara racooning my eyes as I shed bobby pins like a startled porcupine. Fun. Good times.