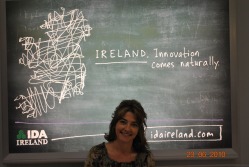 The Paris terminal was an architectural cavern of light in contemporary design and our layover was quiet, the kind of silence after a torrent where you hear, again, sounds that have become second-nature and therefore inaudible:

the compressor whirring on and off to maintain a conditioned zone, the puffs of your own breath and the bloodstream flowing in surges like swimmers being sent single-file down a waterslide.
Before we walked around, marveling at the laptop plug-ins and cellular phone stations where old pay phone stalls used to be, we ordered cappuccinos which the barrista overcharged Steve for double.

When we returned to the counter and requested the receipt, she wordlessly refunded six Euro along with it. Steve and I asked for no explanation, considering it resolved because after the flaying we had taken on the plane from Anthony Perkin's long-lost brother we had no fight left in us—not that the coffee girl's little scam (capitalizing on the fact that the cafe was busy, it was before sunrise, and tired travelers were confused about the currency & exchange rate) was worth fighting over.
We leafed through French magazines (to discover that Prince had a home in Paris, one of his favorite places, and he had a concert scheduled there this summer) and peeked in at the designer booths (Coach, Chanel--items so cost-prohibitive I felt more like I was in a museum than a mall), almost afraid to breathe and be taxed for the expensive air.

One shop, on the opposite end of the spectrum, had plastic-painted Eiffel Towers that said Made in China on the bottom but I also didn't buy a cheap souvenir because walking around the airport did not constitute visiting Paris.

Reading the large public clocks I sighed because we still had over an hour and a half wait so I returned to the 2010 glossy spread of Prince in my hands. Seeing him still a beautiful mess in action, still dressed like a petite lavendar-lace pirate transported me to 1989 when my friend Mark--who knew I was daft over the dancing man(chan)teuse--surprised me on my birthday with tickets to the Prince concert. The catch? The show was in Detroit on Hell Night; if that gives you pause then know that Mark was part getaway-car artist and all-around cool friend. (We'd bonded over a journalism project and, having temporarily sworn off the opposite sex, we nursed each other through break-ups with partners who "didn't deserve us." The truth was they didn't, but then it was about saying the words and repeating them to numbness. Healthy together, we were good at building the other up and he really made me laugh.)

But if you think Prince is tiny, try tracking him from the top rows of the stadium where even binoculars don't help--but this was The Man in His Prime. This was before he had disappeared into an unpronounceable symbol, before 1999 had come--and gone, and it was a highlight of my college experience, zooming home in pitch black as looters had knocked out the streetlights. We smiled, feeling alive & fearless like extras in an action flick racing around barrels of fire that lit our way, more than obstructed it. As screeching firetruck sirens rang alarm and char burnt our nostrils, we pretended this was an interactive post-show performance and fled back to our bucolic college town of rolling hills and an active Greek Row. We had never kissed but I remember feeling like I could have kissed him that night. . .

"It's time to go, honey,"' my husband said, tapping my arm which released the free magazine into the seat I had been in.
"
Ireland, here we come!"